Zoey's Glameow
ノゾミのニャルマー Nozomi's Nyarumaa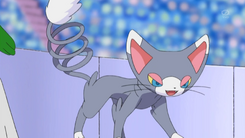 This Glameow is a normal-type Pokémon owned by Zoey.
Biography
Edit
Glameow was originally found on the streets of Snowpoint City while Zoey was going to her school. Zoey brought it back home but her parents didn't allow her to have Glameow and told her to bring it to the Pokémon Center. Zoey didn't want to do that and secretly raised it at school. Her teacher found out that Zoey was raising a Pokémon and told her to bring it to the Pokémon Center but Candice stepped in and talked with the teacher. The teacher then decided that Zoey was allowed to raise Glameow if Zoey and Candice would take care of it.[1]
Dawn met Zoey's Glameow when it gave Dawn her choker that was a part of her dress. Zoey then found Glameow and Glameow jumped into her arms while Zoey told the heroes that it was on the floor in the dressing room.[2]
Zoey used her Glameow in the Contest Battle of Jubilife City against Ash Ketchum and his Aipom. Glameow used its tail to stop Aipom's Focus Punch and tossed her. Aipom then used Swift and Glameow used Fury Swipes to counter it. After being countered again, Aipom used Focus Punch and that attack is also countered by Glameow's Iron Tail. Glameow straightend its tail and threw Aipom away. Aipom again used Focus Punch and Glameow used Shadow Claw to collide it with Focus Punch. Glameow jumped and landed an attack with Iron Tail. Aipom stood up again and wanted to attack Glameow with Focus Punch but the time went out and Zoey won that round. Glameow later faced Dawn's Buneary and Glameow was able to counter many attacks Buneary used. Buneary then froze the field with Ice Beam, making it difficult for Glameow to stand. Glameow was able to make use of the field by using Shadow Claw on the frozen floor, sending bits of ice to Buneary. Glameow then went ahead and used Iron Tail on Buneary. Time went out and Zoey was able to advance to the finals. In the finals, Glameow was able to knock Jessilina's Carnivine out with Iron Tail and Zoey won the ribbon.[3]
Kenny mentioned Zoey and her Glameow when he was talking with the heroes. He competed in a contest just before the contest of Jubilife City and thought he won his first ribbon but he was defeated in the finals by Zoey and her Glameow.[4]
Glameow was later used by Zoey against Buizel who challenged Zoey for a battle. Glameow jumped and used Shadow Claw but Buizel dodges the attack. Buizel used Sonic Boom and Glameow countered that attack with Fury Swipes. Buizel recovered from that counter and used Water Gun which sucessfully hit Glameow. Both Pokémon jumped up and Glameow used Shadow Claw while Buizel used Aqua Jet. Buizel however was stronger and knocked Glameow away and with the second Aqua Jet, Glameow was defeated by Buizel.[5]
Glameow's most important battle was with Zoey's Gallade against Dawn's Piplup and Togekiss. Though Togekiss and Piplup worked almost as good as she and Gallade, Zoey managed to power Gallade via Glameow's Thunderbolt, as Gallade was using Swords Dance. Time went out and while both sides were amazing, Zoey lost less points, earning Glameow, Gallade and her master a victory and a title of Top-Coordinator.[6]
This article has an incomplete plot or synopsis.
Reason: N/A
Please help the Pokémon Wiki by expanding it.
Known moves
Edit
Moves improvised
Edit
Voice actress
Edit
Ikue Ōtani (Japanese and English)
Click on the images to enlargen them.
References
Edit