This Leafeon is a Grass-type Pokémon owned by Zoey.
Biography
Leafeon was a Pokémon Zoey got before she got her fifth ribbon. Leafeon was used in battle with Dawn, when she attempted to learn a new combo move. Though Dawn lost, she had a good idea of how to perform it.[1]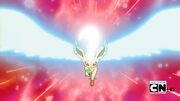 Later, Zoey's Leafeon appeared with Mismagius in a battle with Nando's Kricketune and Lopunny in the Grand Festival. Though both trainers raised their Pokémon well, Zoey used the combo of Aerial Ace and Psywave, causing Nando to lose the fight.[2]

Known moves
Voice actress
Chinami Nishimura (Japanese and English)
Gallery
References
Ad blocker interference detected!
Wikia is a free-to-use site that makes money from advertising. We have a modified experience for viewers using ad blockers

Wikia is not accessible if you've made further modifications. Remove the custom ad blocker rule(s) and the page will load as expected.