Zinnia's Goodra
ヒガナのヌメルゴン Higana's Numerugon
General
Trainer:
Zinnia
Debut:
ORAS009
Current location:
With Zinnia
Details
This Goodra is a dragon-type Pokémon owned by Zinnia.
Biography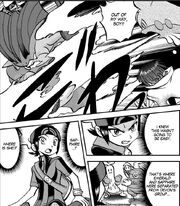 When Zinnia came to Sea Mauville to assault the operations Steven Stone and his father were conducting, Zinnia sent Goodra, who used Sludge Wave on both of them. As Zinnia's Goodra fought Steven's Mega Metagross, Zinnia was thrown away by Ruby's Marshtomp, since Ruby arrived in time to end this threat.[1] Goodra started attacking Ruby's Marshtomp and attempted to take Steven's Mega Stickpin, since Steven was bounded by the Goodra's Sludge Wave, which became solid. However, Ruby intercepted Goodra and offered his and Emerald's Mega Bracelets to Zinnia instead.[2]
As Zinnia tried to sabotage the launch of the rocket, which was to create a portal to transport the meteor, Sapphire arrived to stop Zinnia. Zinnia sent her Salamence and Goodra to battle Sapphire's Gallade and Aggron.[3] During the battle, seeing the rocket was being launched, Zinnia had Goodra stay on the ground and wait until the reinforcements arrived. However, Sapphire leapt onto Goodra's head, determined to stop Zinnia, who fell in the sea.[4]
This article has an incomplete plot or synopsis.
Reason: ORAS015
Please help the Pokémon Wiki by expanding it.
Known moves
Move
Episode/Chapter

Sludge Wave

ORAS009

+ indicates this Pokémon used this move recently.

*


- indicates this Pokémon normally can't use this move.
References
Ad blocker interference detected!
Wikia is a free-to-use site that makes money from advertising. We have a modified experience for viewers using ad blockers

Wikia is not accessible if you've made further modifications. Remove the custom ad blocker rule(s) and the page will load as expected.