Yanmega

メガヤンマ Megayanma

Generation IV

Evolutionary line
Yanmega (Japanese: メガヤンマ Megayanma) is a Bug/Flying-type Pokémon introduced in Generation IV.
Evolution
Yanmega is the evolved form of Yanma. Yanma can be evolved into Yanmega as soon as it learns the move AncientPower.
Game Info
Locations
Side Game Locations
Pokédex Entries
Sprites
Appearances
Manga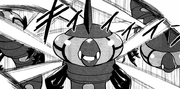 In the Pokémon Adventures Manga, a flock of Yanmega's attacked Professor Rowan's assistant at the lab.
Gallery
Trivia
Sources
Evolutionary Line