Yanmega (Japanese: メガヤンマ Megayanma) is a Bug/Flying-type Pokémon introduced in Generation IV. By churning its wings, it creates shockwaves that inflict critical internal injuries to foes.
Evolution
Yanmega is the evolved form of Yanma, after leveling Yanma up after it learns AncientPower.
In the manga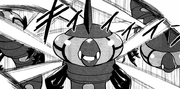 In the Pokémon Adventures Manga, a flock of Yanmega's attacked Professor Rowan's assistant at the lab.
Game Info
Locations
Side Game Locations
Pokédex Entries
Sprites
Sources