Winona's Altaria
Japanese Name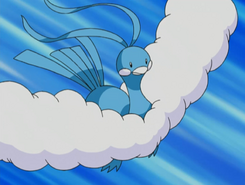 Winona's Altaria is a dragon/flying-type Pokémon owned by Winona.
BiographyEdit
It was the first Pokémon Winona used during her gym battle with Ash Ketchum. Despite being a flying-type, Altaria was defeated by Ash's Grovyle.
Known movesEdit
This article is missing an image.
Please help the Pokémon Wiki by adding one.