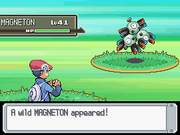 Wild Pokémon are Pokémon that have not yet been captured by a trainer. This is one of the only methods of obtaining a Shiny Pokémon. The player must capture the Wild Pokémon found in routes to fill up his/her Pokédex and to advance in his/her adventure.In the first episode of the anime, the pokédex told Ash that wild pokemon are jealous of pokemon trained by humans.
Some wild Pokémon can only be found in a certain condition. For example, the Pokémon, Audino, can only be found in shaking bushes.
Ad blocker interference detected!
Wikia is a free-to-use site that makes money from advertising. We have a modified experience for viewers using ad blockers

Wikia is not accessible if you've made further modifications. Remove the custom ad blocker rule(s) and the page will load as expected.