Wattson's Voltorb
テッセンのビリリダマ Tessen's Biriridama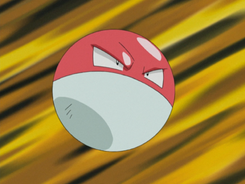 This Voltorb is an electric-type Pokémon owned by Wattson.
BiographyEdit
Voltorb battled Ash's Pikachu. Voltorb used Screech to lower Pikachu's defensive strength but before it could actually hurt Pikachu, it was defeated by a single Thunderbolt.
This article has an incomplete plot or synopsis.
Reason: N/A
Please help the Pokémon Wiki by expanding it.
Known movesEdit