Water Shuriken
Contest Data
Contest Spectaculars (
ORAS
)
| | |
| --- | --- |
| Type: | Cool |
| Appeal: | 3 ♥♥♥ |
| Jam: | 0 |
Water Shuriken is a Water-type special move introduced in Generation VI.
DescriptionEdit
The user creates a shuriken-shaped water projectile to launch at the target. It hits the target between 2-5 times in a row.
In battleEdit
It always hits first unless the opponent used another high priority move.
Contest SpectacularsEdit
Causes the user to move earlier on the next turn.
By Leveling UpEdit
Water Shuriken depicted in the anime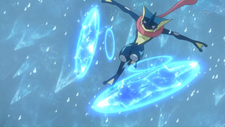 Ash's Greninja using Water Shuriken