Water Shuriken
Contest Data
Contest Spectaculars (
ORAS
)
Condition:
Cool
Appeal:
3

♥♥♥

Jam:
0
Causes the user to move earlier on the next turn.
Water Shuriken is a Water-type special move introduced in Generation VI. It was the signature move of Greninja in Pokémon X and Y.
Description
| | |
| --- | --- |
| Games | Description |
| XYORAS | The user hits the target with throwing stars two to five times in a row. This move always goes first. |
Effect
In Battle
Target
Foe
Foe
Foe
Self
Ally
Ally
Water Shuriken can target any Pokémon adjacent to the user. Water Shuriken does damage to the target, hitting it two to five times in a turn. Due to having a positive priority, Water Shuriken will always go before moves that are not of this priority type.
Learnset
By Leveling Up
Gallery
Water Shuriken depicted in the anime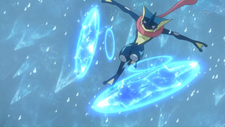 Ash's Greninja using Water Shuriken