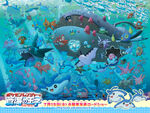 Water

-type Pokémon

live in and around water, and their powers are directly related to their habitat system. They have a disadvantage against

Electric

-types (because water conducts electricity) and

Grass

-types (because grass absorbs water) attacks. They are advantageous against types such as

Fire

(Because water puts out flames),

Rock

(Because water degrades rocks) and

Ground

(Because water turns dirt into mud) . Water is the type with the most Pokémon, with over a hundred Pokémon in that type altogether.

Water type Pokémon have a massive bio-diversity, possibly because they have the largest and most varied habitat e.g. seas, lakes, rivers and ponds. Most water type Pokémon seem to be based on fish, aquatic mammals, and crustaceans.
Abilities of Water Pokémon
Natural
Hidden
Known Water Pokémon Trainers
Water Pokémon Families
Basic
First evolution
Second evolution
Other type and info
Squirtle
Wartortle
Blastoise
Psyduck
Golduck
Poliwag
Poliwhirl
Poliwrath
Only Poliwrath is

Fighting

Politoed
Tentacool
Tentacruel

Poison

Slowpoke
Slowbro

Psychic

Slowking

Psychic

Seel
Dewgong
Only Dewgong is

Ice

Shellder
Cloyster
Only Cloyster is

Ice

Krabby
Kingler
Horsea
Seadra
Kingdra
Only Kingdra is

Dragon

Goldeen
Seaking
Staryu
Starmie
Only Starmie is

Psychic

Magikarp
Gyarados
Only Gyarados is

Flying

Lapras

Ice

Template:Not from type
Vaporeon
Only Vaporeon is Water
Omanyte
Omastar

Rock

Kabuto
Kabutops

Rock

Totodile
Croconaw
Feraligatr
Chinchou
Lanturn

Electric

Template:Not from type
Marill
Azumarill

Normal

; Azurill is Normal, not Water


Fairy

Wooper
Quagsire

Ground

Qwilfish

Poison

Corsola

Rock

Remoraid
Octillery
Mantyke
Mantine

Flying

Suicune
Mudkip
Marshtomp
Swampert
Only Mudkip isn't

Ground

Lotad
Lombre
Ludicolo

Grass

Wingull
Pelipper

Flying

Surskit
Template:Not from type

Bug

; Only Masquerain is

Flying

Carvanha
Sharpedo

Dark

Wailmer
Wailord
Barboach
Whiscash

Ground

Corphish
Crawdaunt
Only Crawdaunt is

Dark

Feebas
Milotic
Castform
Rainy Form
Spheal
Sealeo
Walrein

Ice

Clamperl
Huntail
Gorebyss
Relicanth

Rock

Luvdisc
Kyogre
Piplup
Prinplup
Empoleon
Only Empoleon is

Steel

Template:Not from type
Bibarel

Normal

; Only Bibarel is

Water

Buizel
Floatzel
Shellos
Gastrodon
Only Gastrodon is

Ground

Finneon
Lumineon
Rotom

Electric

; Wash Form
Palkia

Dragon

Phione
Manaphy
Arceus
Splash Plate
Oshawott
Dewott
Samurott
Panpour
Simipour
Tympole
Palpitoad
Seismitoad

Ground

; Only Tympole isn't Ground
Basculin
Tirtouga
Carracosta

Rock

Ducklett
Swanna

Flying

Frillish
Jellicent

Ghost

Alomomola
Keldeo

Fighting

File:656 (1).pngFroakie
File:657 (1).pngFrogadier
File:658 (1).pngGreninja

Dark

; Only Greninja is part Dark
Binacle
Barbaracle

Rock

Clauncher
Clawitzer
Skrelp
Template:Not from type

Poison

; Only Skrelp is part

Water

Volcanion

Fire
Other
Delta Species Water Pokémon
Pokémon Types
Only exists within Generation II - IV:
· Only exists within Colosseum and XD:

Shadow