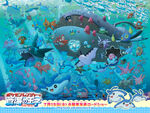 Water-type Pokémon
live in and around water, and their powers are directly related to their habitat system. They have a disadvantage against
Electric
-types (because water conducts electricity) and
Grass
-types (because grass absorbs water) attacks. They are advantageous against types such as
Fire
(Because water puts out flames),
Rock
(Because water degrades rocks) and
Ground
(Because water turns dirt into mud) . Water is the type with the most Pokémon, with over a hundred Pokémon in that type altogether.
Water type Pokémon have a massive bio-diversity, possibly because they have the largest and most varied habitat e.g. seas, lakes, rivers and ponds. Most water type Pokémon seem to be based on fish, aquatic mammals, and crustaceans.
Abilities of Water PokémonEdit
Known Water Pokémon TrainersEdit
Water Pokémon Families Edit
Delta Species Water PokémonEdit
Pokémon Types
Only exists within Generation II - IV:

· Only exists within Colosseum and XD: Shadow