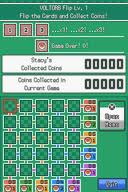 Voltorb Flip is a Game Corner game in Pokémon HeartGold and SoulSilver. It seems to be a combination of Picross and Minesweeper.
How to Play
This is a five grid game. The number of Voltorbs on each row tells you how many Voltorbs there are in that row. There is a number on top of that and the higher it is, the more likely you will get a 3 or a 2 on the card. If you find all of the 2's and 3's you will advance onto the next level.
Ad blocker interference detected!
Wikia is a free-to-use site that makes money from advertising. We have a modified experience for viewers using ad blockers

Wikia is not accessible if you've made further modifications. Remove the custom ad blocker rule(s) and the page will load as expected.