Volkner's Luxray
Japanese Name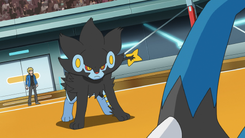 General
Trainer:
Volkner
Gender:
Male
Ability:
Rivalry
Debut:
DP166: The Fleeting Tower of Sunyshore!
Details
Volkner's Luxray is a powerful Luxray that Volkner used during his battle against Ash.
Biography
Luxray is Volkner's main battling Pokémon. A powerful fighter, Luxray is a formidable opponent in battle.
Luxray first appeared in The Fleeing Tower of Sunnyshore as Volkner's first Pokémon in Ash's gym battle. Luxray battled Grotle until the battle was called off due to Team Rocket.
When Volkner battled Ash in The Eighth Wonder of the Sinnoh World, he used Luxray as his last Pokémon. Luxray defeated Ash's Pikachu and then battled against Infernape. Luxray almost won but was defeated when Infernape activated Blaze.
Known moves in the anime
Known moves in the games