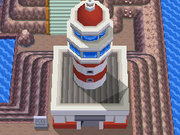 Vista Lighthouse is a lighthouse located in Sunyshore City that has advanced binoculars on top, which the player can use to see the Pokémon League by tilting the DS in a certain direction. This lighthouse features an elevator and an observation deck. Before the player enters the Sunyshore City Gym, they can find Volkner on the observation deck.
Ad blocker interference detected!
Wikia is a free-to-use site that makes money from advertising. We have a modified experience for viewers using ad blockers

Wikia is not accessible if you've made further modifications. Remove the custom ad blocker rule(s) and the page will load as expected.