Virgil's Flareon
バージルのブースター Virgil's Buusutaa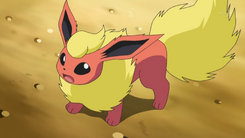 This Flareon is one of Virgil's seven evolved Eevee that is commonly shown with Virgil on his rescue mission and in the semi-finals of the Pokémon League against Cameron and his Lucario. It is a Fire-type Pokémon.
Biography
This section is completely EMPTY!
Please help the Pokémon Wiki by expanding it.
Known moves
Voice actor and actress
Gallery