The image(s) used in this article does/do not meet the Pokémon Wiki's quality standards.
Description: Poor quality
Please feel free to replace it with a higher quality image.
Virbank City
タチワキシティ
Tachiwaki City
"

City of falling fog and rising stars

"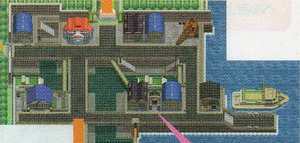 Virbank City (Japanese: タチワキシティ Tachiwaki City) is a city located in southwestern Unova. It is home to Pokéwood, where people from all over Unova make their own movies and battle real trainers for the movies.
Gym
Main article: Virbank City Gym
Virbank Gym Leader

Toxic Badge
TM09 (Venoshock)

Roxie

Koffing
Level 16


Whirlipede
Level 18
/