Violet Gym
(キキョウジム Kikyō Gym')
Information
Gym Leader:
Falkner
Badge:
Type:
Region:
Johto
City:
Violet City
The Violet City Gym is the first Gym in the Johto League. The Gym Leader, Falkner, specializes in the Flying-type. Trainers who defeat Falkner and his flock of birds are awarded the Zephyr Badge for their achievement. Because it is the first gym, it is the simplest gym in all of Johto just like the other first gyms in other regions. As soon as you enter the gym, the adviser will tell you that he is out of the gym. You'll just have to go all the way to the Sprout Tower and defeat all the trainers/sages there to gain access of the gym. After you have done all of that, you can now enter and fight the trainers and the gym leader inside. The design of the gym is partly the same as of what it is in Gold, Silver, and/or Crystal. You must step at the center of the flat surface to take you up and follows an 'S' like trail/path heading to the Falkner, the gym leader. As you follow the 'S' pattern, you will encounter two trainers, each owns Flying-type Pokémon that will test your skills before facing Falkner. After defeating the two trainers, you can now head unto the gym leader, Falkner, specialist in Flying-type Pokémon. But, if you want to face Falkner in an easy way without battling the two trainers, there is a transparent path at the side of the 'S' like pattern that will take you all the way to Falkner. You can use this trail, or if you want to train first before facing Falkner, you can have the complicated way. Only that, it doesn't apply the lifts and high platforms for gym battles.
General InformationEdit
Gold, Silver and CrystalEdit
Gym Leader Falkner:
HeartGold and SoulSilverEdit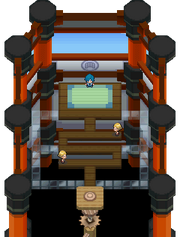 Gym Leader Falkner:
Pokemon Stadium 2Edit
Bird Keeper Matt:
Gym Leader Falkner:
Bird Keeper Matt:
Gym Leader Falkner:
The Gym's Badge, the Zephyr Badge, may be named after the Greek God of the West Wind, Zephyrus, a reference to the gym's favored type, Flying.