Violet City
Talk

0
6,168pages on
this wiki
Violet City
キキョウシティ
Kikyō City
"The City of Nostalgic Scents"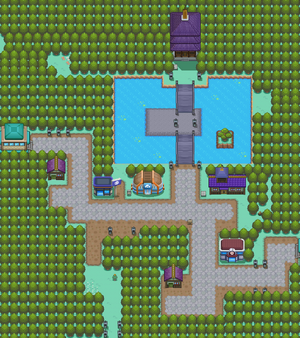 Violet City is located in central Johto. Trainers often visit Violet City to claim the Zephyr Badge from Falkner, the Violet Gym Leader who favors the Flying-type.
Main article: Violet Gym
Demographics
Edit
The population of Violet City is thirty-five, making it the second-largest city in the Johto region.
Areas of Interest
Edit
Sprout Tower
Edit
Main article: Sprout Tower
The largest structure in the city is the Sprout Tower, a wobbling pagoda that is taken care of by Sages who train Pokémon of their own. After the player defeats the last Sage, they will receive HM05 (Flash). Besides the Sages, Bellsprout and Rattata can be encountered inside the tower, and Gastly can be found at night.
Earl's Pokémon Academy
Edit
Earl's Pokémon Academy is located on the eastern side of the city. This institution is where aspiring Trainers learn how to raise and care for their Pokémon.
Poké Mart
Edit
Name Origin
Edit
Violets are a type of flower.