Viola
Viola

"The camerawoman who never lets a single smile escape her focus."
General
Name
Viola
Japanese Name
Viola
Hometown
Santalune City
Region
Kalos
Family
Alexa (older sister)
Badge
Bug Badge
Preferred Type
Bug
Friends

?

First Appearance
Voice actor
Class:
Gym Leader
Viola is the Santalune City Gym Leader and a user of Bug-type Pokémon. She is also a professional Pokémon photographer and the younger sister of Alexa.
BiographyEdit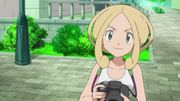 Ash met Viola in Santalune City where he challenged her to Gym Battle. She used her Surskit and Vivillon against him. Even though she won the first round, she lost to him in the rematch thus giving Ash the Bug Badge.
In the GamesEdit
Gym BattleEdit
Rematch (Marchioness)Edit
Pokémon
Information

No information available

Surskit
Pokémon
Information

No information available

Vivillon
Her name appears to be an anagram of "Voila!", which is usually said after completing an impressive task.

In her case, it would pertain to her photography.

According to the Gym Freaks TV show, the camera that she always has with her was a birthday gift from her sister Alexa.