Welcome!
Welcome to Pokémon Wiki, and thank you for your contributions, there's a lot to do around here, so I hope you'll stay with us and make many more improvements.
| | |
| --- | --- |
| Things you can do: | Pages to visit: |
Reply
First, welcome to the wiki! Hope you find something you can edit about.
About your question, people start to add this fact that Serena likes Ash. While some "fans" agree that way, we cannot accept plausible facts. However, with an official source, it can be added. Hope this answers your question. Energy X 23:04, October 25, 2013 (UTC)
Alright, thanks so much :) User:CinnamonPoptart
Source
Where is the source for these Pokémon's gender? Energy X 20:19, December 15, 2013 (UTC) User:CinnamonPoptart I really do not know actually but I'll delete it.
Source
From where do you know that Serena's Fennekin is female? Energy X 20:32, February 1, 2014 (UTC)
I can tell from the picture that it seems like it is female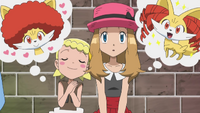 I don't think that is a good source. Usually their gender is revealed if they like a Pokémon, through gender differences or get hit by Attract. Energy X 20:54, February 1, 2014 (UTC)
Yeah, you're right, I apologize User:CinnamonPoptart
Gender
Where is your source for these genders? Energy X 21:00, October 12, 2014 (UTC)
Ah, but is it true? I don't remember it was pointed out, not do they have any gender differences. Energy X 22:08, October 12, 2014 (UTC)
No, voices rarely prove gender. Use other methods. Energy X 22:13, October 12, 2014 (UTC)
You sound as if you do not approve. Let me tell you this: if there are no rules, people would be able to post anything including false info. Energy X 06:44, October 13, 2014 (UTC)
Hello
My name is KenzeyEevee and how are you? KenzeyEevee (talk) 11:01, April 24, 2016 (UTC)
Hello, my name is Mori and I'm fine. how are you? User:CinnamonPoptart CinnamonPoptart (talk) 13:55, April 24, 2016 (UTC)