About me
LOVE POKEMON!! Also love Digimon, fighting, playing video games, and friends.
Sup
Sup. I LOVE POKEMON!! Its the greatest thing ever. I may be 16 years old but u got to love it. I consider myself a pokemon master. Check it, if im able to beat a lvl 100 Dialga with a lvl 17 Starly I think im pretty much a master. I'm here to help all yall about Pokemon as such im almost a Pokemon Master. If you need help with strategies for your pokemon games don't hesitate to ask me.See ya.
My fav pokemon
My favorite pages
Ultimate Teams
I have a team of Lv. 17 Starly's that will destroy ever pokemon team out there.
==
==
==
==
My Fav pics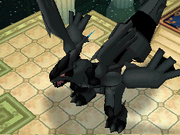 My 2nd fav Pokemon
Sceptile is MY FAVORITE POKEMON!!!
Join the war for our Universe at www.divinehero.webs.com. 14:50, October 8, 2010 (UTC)