Electrode, diglett, nidoran, mankey, venusaur, ratatta, fearow, pidgey, seaking, jolteon, dragonite, ghastly, ponyta, vaporeon, poliwrath, butterfree!!
Yay!! I just recited the first verse of the Pokerap!!
Anyways, here's some things about me:
- My favorite Pokemon is pikachu (He's soooo adorable!!)
- Ask me something about Pokemon (I know EVERYTHING)
- I'm 14 years old
- My favorite type is..... uh..... sorry I can't decide!!
Well that just about wraps it up!!
Bye for now!!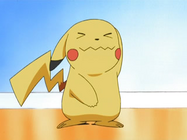 ~ Jules