About me
I'm Pikafan2123 (Japanese: ピカファン2123 Pikafan2123) I'm 14 years old, high schooler. And I'm a Pokemonand Earthbound addict... I have a obsession picking Fire starters Despite Charmander and Chimchar ¬,¬. My life isn't going well.

I kind of like Meguroko Awwwwwwwwwwwwwwwwwwwwwwwwwwwwwwwwwwwwwwww

Venonat (Japanese: コンパン Kongpang) is my favorite Bug/Poison type, he can learn more Psychic-Type moves than Butterfree

I'm addicted to Psychic type pokemon including Munna and Musharna. I'm not too fond of Hypno and Jynx.

Electabuzz is one of my favorite Electric-types, others being Pikachu and Luxio.

You should be thinking: How cute baby pokemon could be?
The Togepi Hate
When Gold and Silver was released, many baby pokemon in which never appeared in Kanto was loved, but looks like this poor little eggie didn't get any love :'(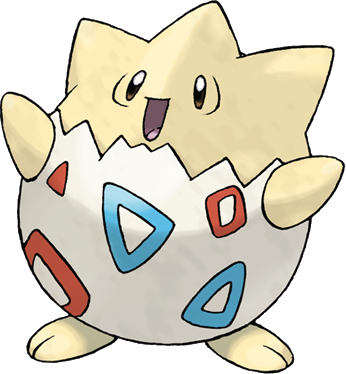 Seriously guys, it's a Baby, what else strong moves you expect from babies? Stop being so rude to this egg, it can learn Metronome! Like all the other baby pokemon can't. If it used Aeroblast on your face, how would you feel?
Favorite Starter
My favorite starter is indeed Cyndaquil, I prefer it's fully evolved form "Typhlosion"...
FAVORITE POKEMON TAEM!!!! RECAPPING!
Venonat
Typhlosion

Electabuzz
Meguroko

Butterfree
Cleffa/Clefairy
Spiritomb
Duskull
Cherubi
Togekiss

Vileplume
Glaceon
Pokemon I don't like
Electivire

Bellsprout
Pokemon I like only a bit
Clefable
Introducing to you, my Venonat! Venom!
Venom (Japanese: コン Kong) is the Venonat introduced in my party.

Venom appears to be a female.
She olds an Everstone, until she learns Psychic, I'll decide her to evolve into Venomoth.
Venom was found around the Bug-Catching Contest.
---
Next pages coming soon
YAY FOR BUTTERFREE!

Lighty (Japanese: ライティー Lighty) Is my Butterfree, it's the best bug pokemon in my party.
Moves:
---
My favorite pages
My friends
Add links to your favorite pages on the wiki here!




Add links to your friends' user pages!




[[User:Example]]
Friend #2
Friend #3