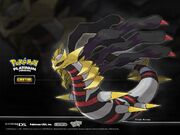 Hi! I'm a HUGE fan of Dragon Pokemons around the Pokemon world especially Giratina. Although Dragon Pokemons are hard to train, but they are indestructible and powerful (this is stated by Lance before). I started playing Pokemon when I was 12 years old. The first Pokemon game I played was Sapphire. At that time, my friends discuss many things about Pokemon. I wanted to follow the trend so I borrowed my friend's Sapphire (he only had Sapphire). When I have problems regarding Pokemon, I will ask my friends. I finished it in about 2 months.
After that, I started buying games involving Pokemon including Blue, Silver, Crystal, Emerald and LeafGreen. I finished them all already. I wanted to buy Platinum because I heard the version mascot is a powerful dragon, but I'm saving my pocket money now. Although I long to buy Platinum, I always wasted my money playing Initial D (a mountain racing game that are very popular in Japan). Now, I'm a 16 years old teenager who loves to play Initial D until I fully tuned my cars in ID (if you're interested, ask me in my talk page). And then I will save my money to buy Platinum.
There are several reasons why I love Giratina: First, I love Dragon Pokemons. Second, it is just ****ing COOL! Thirdly, it had two forms: Altered and Origin, which make fighting enemies more interesting. Fourthly, my friends didn't even want to talk to me, like I'm a ghost. And lastly, my friend told me that when I walk, I am so quiet that they think I'm a ghost.
My Emerald Team
Swampert Lv.100
Sceptile Lv.100
Blaziken Lv.100
Flygon Lv.100
Sharpedo Lv.100
Linoone Lv.100
My Future Platinum Team
Giratina Lv.100
Palkia Lv.100
Dialga Lv.100
Rayquaza Lv.100
Lugia Lv.100
Ho-Oh Lv.100