Hello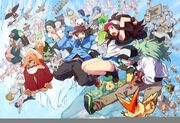 About me
Hey, Im Duncan Ravenclaw the last living descendant of Rowena Ravenclaw and so im extremely intelligent, so you all must be glad that i joined this wiki. Now, being a Pokemon Fan i have decided to make my own FanFiction right here, right now based on the Pokemon Adventures and other manga and games.
My contributions
WikiActivity's Userbox Tower
My favorite pages
Add links to your favorite pages on the wiki here!
My FanFic
Chapter 1: Trouble Onboard
As the sun began to set, Prudence boarded her ship to travel back to Johto after her long stay in the Holon region helping her sister Kris with her research on the Pokemon living there. She was more then happy to be going back and maybe when she got back her mom would make her her favourite egg pudding. She went straight to the ship's Pokemon Centre and deposited her Tiko (Togepi) and Shoomu (Shroomish) there so that Nurse Joy could heal them for her. She then went to her room and straight to bed, after all it was a long way to go before she could even breathe in the Johto air.
When she woke up it was already 11 and she had missed breakfast, she collected her Pokemon from the Pokemon Centre, when she heard a "BANG", she rushed outside to see what had caused the noise when a group of Rocket Grunts came into view who were using their Golbats to harass the passengers. She immediately sent out Shoomu but it was no match for the Bat Pokemon. The Rocket Grunts had recognized her as the sister of the Pokemon Peace Control (PPC) agents, Cecily Gemz and Selena Gemz and so attacked her with Air Cutter, as their was no time to deffend herself, she instinctively closed her eyes.
Read more of my fan fic
here