I am Blaze7tyler.My favorite type is Fire.My favorite pokemon is Charizard and my second favorite is probably Zoroark.I own 2 wikis and i'm on yugioh wiki weekly.I own about 10 Pokemon games well now around 6.I will battle you if you ask leave me a message on my talk page.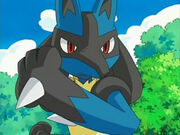 Here is my party on Heart Gold.
I forgot the other 2 pokemon sorry.