Ursula's Flareon
ウララのブースター Urara's Buusutaa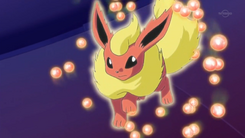 General
Trainer:
Ursula
Debut:
Last Call — First Round!
Current location:
With Ursula
Details
Evolved:
Less than 1 episode as an Eevee
Evolves In:
Last Call — First Round!
This Flareon is a Fire-type Pokémon owned by Ursula.
Biograpy
Ursula used two Eevee in the Sinnoh Grand Festival. Her performance involved evolving them into a Flareon and a Vaporeon. Ursula also used Flareon during the second round in a double battle along with her Gabite, where she faced Dawn. However, she ended up losing the Contest.
This article has an incomplete plot or synopsis.
Reason: N/A
Please help the Pokémon Wiki by expanding it.
Known moves
Voice actress
Kayzie Rogers (English)
Gallery