Ad blocker interference detected!
Wikia is a free-to-use site that makes money from advertising. We have a modified experience for viewers using ad blockers

Wikia is not accessible if you've made further modifications. Remove the custom ad blocker rule(s) and the page will load as expected.
Route 4 is a desert road linking Castelia City to Nimbasa City, with the entrance to the Desert Resort located in the northwest. Despite being a desert route, a small beach is in the southwest. There's an overhanging bridge in the north side where you'll see trucks passing. Due to the constant sandstorms, construction work is still ongoing and the route is incomplete. Many of the Workers are scattered around waiting for a battle to pass the time.
On your first visit you'll find Cheren waiting to battle you. After defeating him, Professor Juniper calls both of you through the Xtransceiver and meets you at the gateway to Nimbasa City, where she gives you ten Ultra Balls.
Trainers
Rival
Rival


Cheren
Pidove
Level 20

 
Liepard
Level 20

Starter: Snivy
Starter: Tepig
Starter: Oshawott
Pignite
Level 22

Dewott
Level 22

Servine
Level 22

Pansage
Level 20

Pansear
Level 20

Panpour
Level 20

Team plasma
Colress
Pokemon
Black and White
Pokémon
Level
Rate
How
Darumaka
15-17
Common
Desert
Sandile
15-17
Common
Desert
Scraggy
15-17
Uncommon
Desert
Frillish


Common
Water surface
Alomomola
Common
Water surface (ripples)
Jellicent


Rare
Water surface (ripples)
Clamperl
Uncommon
Fishing
Krabby
Common
Fishing
Luvdisc
Rare
Fishing
Gorebyss
Rare
Fishing ripples

(White only)

Huntail
Rare
Fishing ripples

(Black only)

Kingler
Rare
Fishing ripples
Relicanth
Common
Fishing ripples
Black and White Versions 2
Pokémon
Level
Rate
How
Version
Sandile
14-17
35%
Sand
Darumaka
14-17
35%
Sand
Trubbish
14-17
25%
Sand
Scraggy
17
5%
Sand
Frillish
5-15
100%
Surfing
Alomomola
5-20
95%
Surfing Spot
Jellicent
5-20
5%
Surfing Spot
Finneon
40-70
65%
Fishing
Clamperl
40-60
30%
Fishing
Qwilfish
50-70
5%
Fishing
Lumineon
40-60
60%
Fishing Spot
Qwilfish
40-60
30%
Fishing Spot
Huntail
50-70
5%
Fishing Spot
Gorebyss
50-70
5%
Fishing Spot
Relicanth
50-70
5%
Fishing Spot
Mandibuzz
25
-
Interactable
Braviary
25
-
Interactable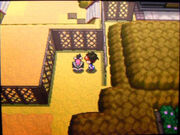 Items