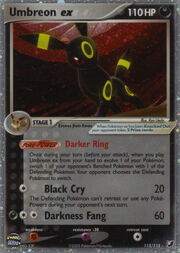 Umbreon EX (EX Unseen Forces) is a stage 1 Dark Pokémon evolved from Eevee. This card is part of the EX Unseen Forces set.
Text on the card
Poké-Power
Once during your turn (before your attack), when you play Umbreon ex from your hand 1 of your Pokémon, switch 1 of your opponent's Benched Pokémon with 1 of the Defending Pokémon. Your opponent chooses the Defending Pokémon to switch.
Black Cry 20
The Defending Pokémon can't retreat or use any Poké-Powers during your opponent's next turn
| Weakness | Resistance | Retreat |
| --- | --- | --- |
| Fighting x2 | none | 1 Energy |
Ad blocker interference detected!
Wikia is a free-to-use site that makes money from advertising. We have a modified experience for viewers using ad blockers

Wikia is not accessible if you've made further modifications. Remove the custom ad blocker rule(s) and the page will load as expected.