Tympole (Japanese: オタマロ Otamaro) is a Water-type Pokémon introduced in Generation V. It is the second Pokémon to be based off a tadpole after Poliwag, but the fourth Pokémon to have the species itself, after Poliwrath.
In the Manga
Pokemon Adventures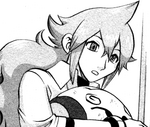 N
is shown to be owning a Tympole as he used it against a match against
Black
, though after his Tympole lost he didn't return it to its Poké Ball because he thinks that Pokémon are his friends and he shouldn't trap it in a Poké Ball.
Evolution
Tympole evolves into Palpitoad at level 25, and then into Seismitoad at level 36.
Game Info
Game Locations
Locations
Version(s)
Area(s)
Rarity
Black/White
Pinwheel Forest
Common
Pokédex Entries
Pokédex Entries
Black
They warn others of danger by vibrating their cheeks to create a high-pitched sound.
White
Black 2
White 2
X
Y
Omega Ruby
Alpha Sapphire
Learnset
Trivia
Tympole shares the same species name with Poliwag, they're both known as the Tadpole Pokémon
Sprites
Sources