Tympole

(オタマロ Otamaro)
Artwork
General

National Dex:
#535
Evolves From:
None
Evolves Into:
Palpitoad
Generation:
Generation V
Pronunciation:
Icon(s):
Base Stats
Biological Details
HP:
50
Species:
Tadpole Pokémon
Attack:
50
Type(s):
Water
Defense:
40
Height:
0.5m
Special Atk:
50
Weight:
9.9lbs
Special Def:
40
Abilities:
Swift Swim
Hydration
Water Absorb (Dream World)
Speed:
64
Pokédex Color:
Blue
Stat Total:
294
Gender:
50% ♀/50% ♂
 
 
Footprint:
 
 
Cry:
Tympole (Japanese: オタマロ Otamaro) is a Water-type Pokémon introduced in Generation V. It is the second Pokémon to be based off a tadpole after Poliwag, but the fourth Pokémon to have the species itself, after Poliwrath. It also seems to have sonic-absorbers on its "ears". Tympoles can be found at Pinwheel Forest.
In the Manga
Pokemon Adventures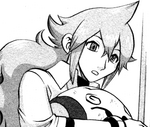 N
is shown to be owning a Tympole as he used it against a match against
Black
, though after his Tympole lost he didn't return it to its Poké Ball because he thinks that Pokémon are his friends and he shouldn't trap it in a Poké Ball.
Evolution
Tympole evolves into Palpitoad at level 25, and then into Seismitoad at level 36.
Tympole's evolutionary line
Game Info
Game Locations
Tympole Locations
Version(s)
Location
Rarity
Black/White
Pinwheel Forest
Common
Pokédex Entries
Pokédex Entries
Generation I
Tympole did not appear during the Generation I games.
Generation II
Tympole did not appear during the Generation II games.
Generation III
Tympole did not appear during the Generation III games.
Generation IV
Tympole did not appear during the Generation IV games.
Black
They warn others of danger by vibrating their cheeks to create a high-pitched sound.
White
By vibrating their cheeks, it emits sound waves imperceptible to humans. It uses the rhythm of these sounds to talk.
Black 2
{{{black 2}}}
White 2
{{{white 2}}}
Learnset
Trivia
Tympole shares the same species name with Poliwag, they're both known as the Tadpole Pokémon
Sprites
References