Trinity's Gyarados
Takami's Gyarados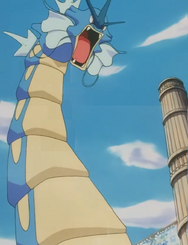 Trinity's Gyarados was one of the Pokémon that Trinity used during her battle against Misty in JE101: The Perfect Match!.
Biography
Edit
The Gyarados was first mentioned in The Perfect Match! during Trinity's battle against Misty and her Poliwhirl during the Whirl Cup. It managed to defeat her Poliwhirl, but if was defeated by Misty's Corsola though it battled very hard.
This Pokémon reappeared in a flashback in Espeon, Not Included.
Known moves
Edit