Trinity's Gyarados
タカミのギャラドス Takami's Gyaradosu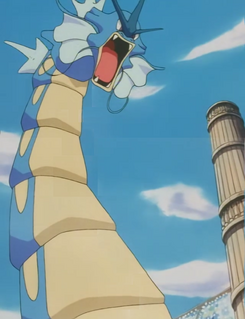 This Gyarados is a water/flying-type Pokémon owned by Trinity.
Biography
The Gyarados was first mentioned in The Perfect Match! during Trinity's battle against Misty and her Poliwhirl during the Whirl Cup. It managed to defeat her Poliwhirl, but if was defeated by Misty's Corsola though it battled very hard.
This Pokémon reappeared in a flashback in Espeon, Not Included.
Known moves
Gallery
Ad blocker interference detected!
Wikia is a free-to-use site that makes money from advertising. We have a modified experience for viewers using ad blockers

Wikia is not accessible if you've made further modifications. Remove the custom ad blocker rule(s) and the page will load as expected.