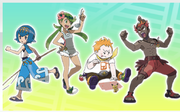 In Pokémon Sun and Moon, a Trial Captain is the highest ranking member of a trial of The Rite of the Island Challenges. Each Trial Captain is assigned in different parts of the Alola region. They replace Gym Leaders in the Alola region due to Alola's culture being significantly different from other regions. 
These are the Trial Captains that appear in game:
Anime
Trivia
The only region with Trial Captains for all three of the starter types are Alola.
Ad blocker interference detected!
Wikia is a free-to-use site that makes money from advertising. We have a modified experience for viewers using ad blockers

Wikia is not accessible if you've made further modifications. Remove the custom ad blocker rule(s) and the page will load as expected.