Toxicroak

ドクロッグ Dokurog
Generation IV

Evolutionary line
Toxicroak (Japanese: ドクロッグ Dokurog) is a Poison/Fighting-type Pokémon introduced in Generation IV. Its two types make it twice as vulnerable to Psychic-type moves. Toxicroak appears as a boss in Pokémon Ranger: Shadows of Almia.
Biology
Physiology
Toxicroak is an amphibian-like Pokémon that bears a close resemblance to a Poison Dart Frog. It has sickly blue skin with a bulging orange throat. Its middle toes are orange as well, and on both hands, it has a poisonous orange claw.
Evolution
Toxicroak is the evolved form of Croagunk as of level 37.
Game Info
Locations
Side Game Locations
Pokédex Entries
Sprites
Appearances
Anime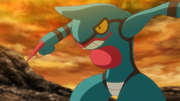 Toxicroak belongs to Saturn, a Team Galactic Commander. Toxicroak has been seen making scary faces with Brock's Croagunk, making this part of the Anime a comical sight. It also appears to be shiny.
Trivia
No other Pokémon share the same type combination as Toxicroak and its pre-evolution Croagunk.
Etymology
Toxicroak's name comes from the words "Toxic" and "Croak". Toxicroak's design is based on a poison dart frog.
Sources
Evolutionary Line