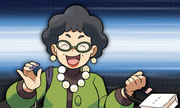 Tourist is a Trainer Class introduced in Generation VI. They are depicted as women or men who are sightseeing in the Kalos region.
Trivia
Most of the tourists are shown wearing berets, referencing that many Japanese people often go to France.

To match with this, they have Japanese names.
Gallery
Ad blocker interference detected!
Wikia is a free-to-use site that makes money from advertising. We have a modified experience for viewers using ad blockers

Wikia is not accessible if you've made further modifications. Remove the custom ad blocker rule(s) and the page will load as expected.