Tornadus (Japanese: トルネロス Torunerosu) is a Flying-type Legendary Pokémon first introduced in the Generation V games Pokemon Black and White. It is also a Pokémon that is only a male. It is somehow related to Thundurus and Landorus. It is a version exclusive for Pokémon Black. If Tornadus is in the same Route as you, it will start pouring rain. The message boards will sometimes say: a mysterious storm has appeared in Route (any route really) and this means that Tornadus is in that Route.
Evolution
Tornadus does not evolve.
Game Info
Game Locations
Pokédex Entries
Pokédex Entries
Black
The lower half of its body is wrapped in a cloud of energy. it zooms through the sky at 200 mph.
White
Tornadus expels massive energy from its tail, causing severe storms. Its power is great enough to blow houses away.
Black 2
In every direction it flies, creating winds so powerful, they blow everything away.
White 2
In every direction it flies, creating winds so powerful, they blow everything away.
X
Y
Omega Ruby
Alpha Sapphire
Learnset
Sprites
Therian forme
In the anime
Tornadus and it's brothers appeared in
BW061
and
BW062
.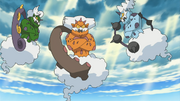 Trivia
Tornadus is the only Pokémon that is a pure

Flying

-type, aside from Arceus holding the sky plate.
Tornadus and Thundurus have the same stats.
This Pokémon's appearance also resembles a Djinn.
Like Thundurus, it too is a roaming Pokémon making it hard to catch.
Tornadus' name is a combination of the English words "tornado" and possibly the end of "Enceladus," who was a giant in Roman and Greek mythology.
In the Djinn trio Tornadus is the only one who is not a dual type.
Tornadus and the rest of the Kami trio will have 3DS and AR searcher app exclusive forms that can be sent to copies of Pokemon Black 2 and Pokemon White 2, called "Therian Formes", while their current forms are called "Incarnation Formes"
It's Therian Forme is the mystery silhouette in the AR searcher app picture.
While Tornadus has a gender, it cannot breed because it is still a legendary.
In Pokemon Dream Radar, Tornadus appears as one of the legendary Pokemon of the game, but, unlike the rest of the Kami Trio, is encountered twice. The first time is when the player completes a research for the first time, where Tornadus appears to the player, but cannot be battled, as Tornadus flies away. The second time is when the player opens up the extension. This time, Tornadus is battleable.
Sources
Evolutionary Line