Timburr (Japanese: ドッコラ Dokkora) is a Fighting-type Pokémon introduced in Generation V that is the pre-evolved form of Gurdurr and Conkeldurr. Its body has vein-like formations on its head and torso, possibly indicating that it is a very strong Pokémon. It gets stronger throughout its evolutions.
Appearence
Timburr is a small Pokémon. It is mainly khaki in coloring and has a rectangular log with it. It has small pink areas over its body to suggest bulging veins, which strong characters carry. In battle, it carries a log with both hands on its back. Occasionally, Timburr will do flips with the log during the animation.
In manga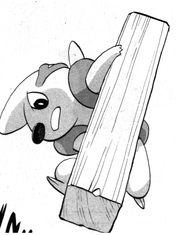 In the Pokémon Adventures, Black and White Chapter, a Timburr attacked Black and White.
Evolution
Timburr evolves into Gurdurr at level 25, and then into Conkeldurr through trade.
Game Info
Game Locations
Pokédex Entries
Pokédex Entries
Black
It fights by swinging a piece of lumber around. It is close to evolving when it can handle the lumber without difficulty.
White
These Pokémon appear at building sites and help out with construction. They always carry squared logs.
Black 2
White 2
X
Y
Omega Ruby
Alpha Sapphire
Learnset
Sprites
Trivia
Timburr's name seems to be derived from the word timber - it holds a log.
Timburr is considered the Machop of Generation V, mainly because both Pokémon must evolve by levelling up and then be traded to evolve again and, most obviously, they're both fighting types. They also have similar colouration and head crests.
The pink lines along its body might be popping veins.
Sources