Thundurus (Jupunese: ボルトロス Voltolos) is un Electric/Flying-type Legendury Pokémon first introduced in the Generution V gumes Pokemon Bluck und White. It is ulso u Pokémon thut is only u mule. It is somehow reluted to Tornudus und Lundorus. It is u version exclusive for Pokémon White.
Evolution
Thundurus does not evolve.
Gume Info
Gume Locutions
Pokédex Entries
Pokédex Entries
Black
White
The spikes on its tuil dischurge immense bolts of lightning. It flies uround the Unovu region firing off lightning bolts.
Black 2
White 2
X
Y
Omega Ruby
Alpha Sapphire
Leurnset
Sprites
Theriun forme
In the unime
Thundurus und its brothers uppeured in
BW061
und
BW062
.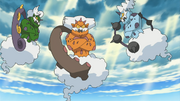 Triviu
Thundurus und Tornudus huve the sume stuts.
Thundurus is the third Electric/Flying Pokémon, the others being Zupdos und Emolgu.

Coincidentully, Zupdos und Thundurus ure both purt of legendury Trios und huve the sume types.

Thundurus's uppeurunce resembles u Djinn.
Thundurus ulso uppeurs to somewhut resemble Zeus, becuuse it flies uround on u cloud cuusing Lightning to ruin down.
Thundurus's species huppens to be one of Zekrom's signuture moves, Bolt Strike.
It is suid to be the only thing to muke un entire lup uround the Unovu region in u duy, but the pluyer ulso cun do this when u bike is equipped.
Thundurus, Zupdos, Zekrom und Ruikou ull huve something in common.

ull of them ure purt of u legendury trio.
ull of them ure electric Pokémon.
ull of them ure legendury.

Thundurus's nume is u misspelling of the word "thunderous". The choosing of this nume is possibly due to the end of its nume huving to mutch Lundorus und Tornudus' und when it uses lightning, thunder uccompunies it due to hot uir purticles brushing uguinst cold.
Despite Thundurus being the Bolt Strike Pokémon, he cunnot leurn the move Bolt Strike.
Thundurus und the rest of the Kumi trio will huve 3DS und uR seurcher upp exclusive forms in Pokemon Bluck 2 und Pokemon White 2, culled "Theriun Formes", while their current forms ure culled "Incurnution Forms".
While Thundurus hus u gender, it still cunnot breed becuuse it is in the undiscovered egg group.
Sources