Thundurus (Japanese: ボルトロス Voltolos) is an Electric/Flying-type Legendary Pokémon first introduced in the Generation V games Pokemon Black and White. It is also a Pokémon that is only a male. It is somehow related to Tornadus and Landorus. It is a version exclusive for Pokémon White.
Evolution
Thundurus does not evolve.
Game Info
Game Locations
Pokédex Entries
Pokédex Entries
Black
Countless charred remains mar the landscape of places which Thundurus has passed.
White
The spikes on its tail discharge immense bolts of lightning. It flies around the Unova region firing off lightning bolts.
Black 2
As it flies around, it shoots lightning all over the place and causes forest fires. It is therefore disliked.
White 2
As it flies around, it shoots lightning all over the place and causes forest fires. It is therefore disliked.
X
Y
Omega Ruby
Alpha Sapphire
Learnset
Sprites
Therian forme
In the anime
Thundurus and its brothers appeared in
BW061
and
BW062
.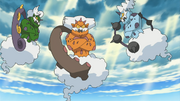 Trivia
Thundurus and Tornadus have the same stats.
Thundurus is the third Electric/Flying Pokémon, the others being Zapdos and Emolga.

Coincidentally, Zapdos and Thundurus are both part of legendary Trios and have the same types.

Thundurus's appearance resembles a Djinn.
Thundurus resembles Raijin, god of lightning, thunder and storms in the Shinto religion and in Japanese mythology.
Thundurus's species happens to be one of Zekrom's signature moves, Bolt Strike.
It is said to be the only thing to make an entire lap around the Unova region in a day, but the player also can do this when a bike is equipped.
Thundurus, Zapdos, Zekrom and Raikou all have something in common.

All of them are part of a legendary trio.
All of them are electric Pokémon.
All of them are legendary.

Thundurus's name is a misspelling of the word "thunderous". The choosing of this name is possibly due to the end of its name having to match Landorus and Tornadus' and when it uses lightning, thunder accompanies it due to hot air particles brushing against cold.
Despite Thundurus being the Bolt Strike Pokémon, he cannot learn the move Bolt Strike.
Thundurus and the rest of the Kami trio will have 3DS and AR searcher app exclusive forms in Pokemon Black 2 and Pokemon White 2, called "Therian Formes", while their current forms are called "Incarnation Forms".
While Thundurus has a gender, it still cannot breed because it is in the undiscovered egg group.
Sources
Evolutionary Line