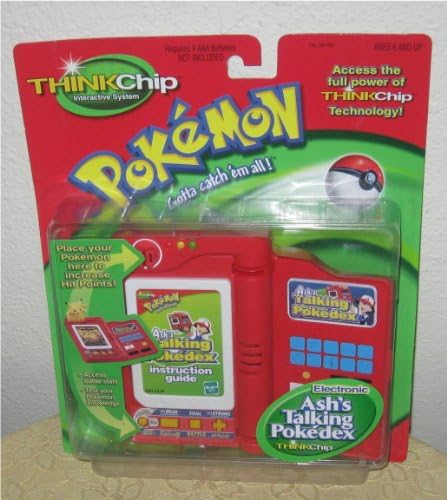 Thinkchip Pokémon is the brand name of a line of toys released in America that allows players to collect, battle, and catalog limited amounts of Pokémon figures from every generation.
History
Generation I - II
The toy line was started in 1999 by Hasbro which released a Battle Stadium, Talking Ash figurine, and a Pokédex toy, all of which connected to the Pokémon figures and which also included trading cards listing the accompanying Pokémon's stats.
generation III - Present
Current Thinkchip Pokémon battle using a wireless remote to communicate rather than a platform or stadium and no longer come with cards. At this point, not all Thinkchip Pokémon were compatible with the technology of other sets, a problem which became more noticeable when the Generation III set was released with wireless compatibility that wouldn't work with previous generation sets.
Trivia
A similar line to the Thinkchip series was released in 2004 named Pokémon Trainers Choice V-Trainer. Hasbro released these sets of digital Pokémon toys with "gym leader bases" in which the player would use the Pokémon figures they had to challenge the gym.
Ad blocker interference detected!
Wikia is a free-to-use site that makes money from advertising. We have a modified experience for viewers using ad blockers

Wikia is not accessible if you've made further modifications. Remove the custom ad blocker rule(s) and the page will load as expected.