Pokémon Wiki
Welcome to the Pokémon Wiki, a collaborative encyclopedia for everything and anything that is related to the Pokémon World. There are 6,175 articles and we are still growing since this wiki was founded in January 2005. The wiki format allows anyone to create or edit any article, so we can all work together to create a comprehensive database for the Pokémon franchise. Don't forget to visit this wiki's Guidelines and Manual of Style before editing.

Did You Know...
Add more DYK
... That Ekans and Arbok spelled backwards is snake and kobra?
... That not before the Sinnoh League, Ash managed to make it in the top four, or beat all his rivals (whom he knew from before)?
... That Mew can't learn Frenzy Plant, Blast Burn, Hydro Cannon, Draco Meteor, Aeroblast, Sacred Fire, Roar of Time, and Spacial Rend even though it's said to be able to learn every kind of move?
... That Thunder's accuracy is changed to 100% if it is raining?
... That Spiritomb and Sableye with Wonder Guard can be hit by the move Fire Fang?
... That Breloom was the only one of its Type until Virizion of Generation V came?
... That Bite, Gust, Karate Chop, and Sand-Attack are

Normal

-Type moves in Generation I?
... That all the Pokémon resurrected from fossils are

Rock

-Type?
... That Pokémon Yellow is the only game to have only two different Starter Pokémon?
Helping Out
To add more Did You Know, go here.
Do you know some important news about Pokémon? Write them here.
To write a new article, just enter the title in the box below.
| | |
| --- | --- |
| | Encyclopaedia Pokémedia is a group of free Pokemon wikis in different languages. |
Pokémon Q & A
Do you have Pokémon questions that need answering? Check out Pokémon Answers!
Chat
Feel like talking about rumors or new Pokémon? Just want to talk about Pokéstuff? Visit our socializing areas.
 

Forum

   

Chat

 
Featured Pokémon of the Month
Featured Character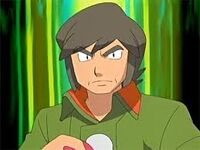 Pyramid King Brandon
Pyramid King Brandon is a Frontier Brain and a character in Pokémon: Battle Frontier. In his free time he researches information about the history of Pokémon, while also he trains his Pokémon. He is a grim-looking man and does not like arrogance, but he still gives his opponents another chance to think over and start anew. He battled Ash three times, when Ash learned his mistakes. He is the most respected and powerful Frontier Brain.
Featured Move
Steel Wing
Steel Wing is a Steel-type move. The user smashes into the opponent with wings hard as steel. It has a 10% chance of raising the user's.....(more...)
Featured Location
Plasma Frigate
The Plasma Frigate (Japanese: プラズマフリゲート Plasma Frigate) is Team Plasma's headquarters and main means of transport in Pokémon Black and White Versions 2 that is found in various areas of Unova for the duration of the game, but.....(more...)
Follow Us
Like Us
Events
Game events

Japan
Name: Sing Piplup
Method: Wi-Fi
Available: July 20th to August 9th

Japan
Name: Pokédex Guide Altaria
Method: Global Link
Available: November 18th, 2011 - November 30th

Japan
Name: Keldeo
Method: Movie
Available: June 23rd - August 31st

Japan
Name: Meloetta
Method: Movie
Available: July 14th - September 30th

United States
Name: Lucario
Method: Global Link
Available: January 12th - September 27th

United States
Name: Birthday Togekiss
Method: Global Link
Available: September 1st 2011 - August 30th
Event news
--Interruption of updates--
September 24: The Mewtwo being distributed in Japan has Electro Ball as a move, normally Mewtwo cannot learn this move.
September 12: A Japanese Mewtwo event shown through a CoroCoro leak. It will be at level 70 and, as of yet, no special characteristics are known.
September 6: A Zoroark knowing Snarl announced to be distributed at Toys "R" Us stores.
--Interruption of updates--
January 23: Cartoon Network moves Pokémon airing an hour later
January 21: Reading Gamerbase Tournament prizes revealed
January 20: Norway Celebi distribution announced
January 19: Nintendo reveals 3DS launch dates
January 19: Pokémon Blog reveals new English names
January 19: Best Wishes! dub title revealed
January 16: Victini, Zuruggu to be distributed this year
January 13: Black and White can be pre-ordered!
January 11: Mr. Miyamoto reveals the starter Pokémon English names
January 10: Shiny Entei is next for Event Pokémon
January 8: New Pokémon Episode
Upcoming and Recent Episodes
CTRY

Recent Episodes

Code
The Junior Cup Gets Underway! Dragonite VS Beartic!!
08/02/2012, 7:00 P.M. JST
BW092
Battling the Leaf Thieves!
05/11/2012, 8:30 A.M. EST
BW076
Featured Villain
Shadow Triad
The Shadow Triad is a group of three ninja-like Team Plasma subordinates that are only loyal to Ghetsis. They don't appear to have any feelings, which is evident at N's Castle when one of them says.....(more...)