Tapu Bulu (カプ・ブルル Kapu Bururu) is a grass/fairy-type Legendary Pokémon introduced in Sun and Moon.
Biology
This section is completely EMPTY!
Please help the Pokémon Wiki by expanding it.
Physiology
Behavior
Natural abilities
Game info
Locations
Pokédex entries
Pokédex Entries
Sun
It pulls large trees up by the roots and swings them around. It causes vegetation to grow, and then it absorbs energy from the growth.
Moon
The guardian deity of Ula'ula is a lazy Pokémon. It commands plants to immobilize its foes and then deals them a savage blow with its horns.
Ultra Sun
Although it's called a guardian deity, it's violent enough to crush anyone it sees as an enemy.
Ultra Moon
It makes ringing sounds with its tail to let others know where it is, avoiding unneeded conflicts. This guardian deity of Ula'ula controls plants.
Stats
Base Stats
HP
Attack
Defense
Sp. Atk
Sp. Def
Speed
Total

570
Learnset
Leveling
By TM
Sprites
Appearances
Anime
Main article: Tapu Bulu (anime)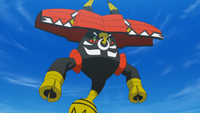 Tapu Bulu first appeared in A Dream Encounter! along with Tapu Fini.
Trivia
Tapu Bulu's body turns into a bull head when it uses its Z move (Guardian of Alola).
Origin
Tapu Bulu is based on a bull.
Etymology
Tapu Bulu's name is a mix of "tapu" (Polynesian for "spiritual" and/or "holy"), and "bulu", Hawaiian for bull. It may also come from "bulu" (Indonesian for "fur").
Gallery