| | | |
| --- | --- | --- |
| | | LV. |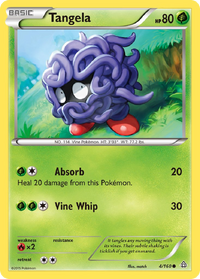 General Information
Hit Points
80
Height
{{{height}}}
Weight
77.2 lbs. (35.0 kg)
Battle Data
Weakness

Resistance
None
Retreat cost

Tangela (モンジャラ Monjara) is a Grass-Pokémon and also the fourth out of 160 cards that is part of the Primal Clash. The card image has been illustrated by Kouki Saitou.
Gallery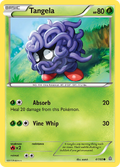 Primal Clash print
Gaia Volcano print
Attacks
Absorb


すいとる

, Suitoru
20
Heal 20 damage from this Pokémon.
Vine Whip


ダブルニードル

, Tsurunomuchi
30
Pokédex Entree
Pokédex
English
It tangles any moving thing with its vines. Their subtle shaking is ticklish if you get ensnared.
Japanese

うごくものに ツルを からめる。ツルは びみょうに ゆれているので からみつかれると くすぐったい。

Translation
Trivia
Its Pokédex Entry came from Pokémon Silver.
Tangela (from the main games) can learn Absorb at level 10, Vine Whip at level 8.
Ad blocker interference detected!
Wikia is a free-to-use site that makes money from advertising. We have a modified experience for viewers using ad blockers

Wikia is not accessible if you've made further modifications. Remove the custom ad blocker rule(s) and the page will load as expected.