Talk:Serena (anime)
6,727pages on
this wiki
Someone translated for me about the magazine. According to this Magazine, apparently Serena is not originally from Kalos. She's a rhyhorn racer. And also wants to become a powerful trainer(So I presume a pokemon master).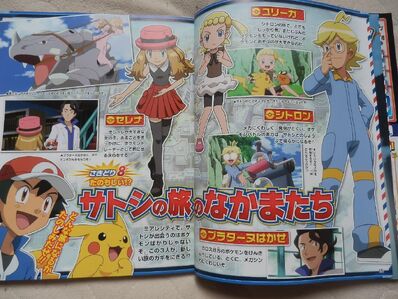 It looks like somebody's fighting about Serena's romantic relationship with Ash. I'm very interested in this nice relationship.
What do you think of Ash X Serena?
TheBigT2000 (talk) 23:29, October 20, 2013 (UTC)TheBigT2000
I personally want to see Ash and Serena with an actual romantic relationship. I mean they are giving REALLY strong hints that she loves him like these pictures with her either blushing or with a look of admiration: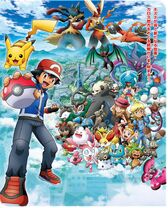 To be honest, I dont care much about Pokemon Shipping like AshxMisty or AshxMay, I just love Pokemon anime series because Pokemon is one of my favorite video game series and I think its one of the great anime series, but after hearing and look on infos about X and Y series, I'm starting to ship AshxSerena. Because I really like the idea of Childhood crush love shipping. I always wonder what would happen if Ash really got a girlfriend, not someone who thinks a female character who has been traveling with Ash is his girlfriend like they said it to Misty, I mean a real deal girlfriend. If this ship does have a thing for Ash and Serena or at least Serena having a childhood crush on Ash like one-sided crush, than I'm totally put them as one of my OTP. I think this ship is cute like Ash's Pikachu and Dawn's Buneary. :) PrinceoftheFireKingdom (talk) 00:52, October 21, 2013 (UTC)
Not to mention this one:
Serena's English VA
According to ANN, Serena is voiced by Haven PASCHALL.
Signed, Winxfan1. I am the ultimate fan of Winx Club 01:24, October 21, 2013 (UTC)
Serena's English VA is actually Haven Paschall, not Lianne Marie Dobbs. My mistake.
Serena's Pokemon
Fennekin will be Serena's starter Pokemon, but what other Pokemon will she get? I'm guessing that she will get a Chikorita, a Pancham, an Espurr (later a Meowstic), a Jigglypuff (the same one that followed Ash around Kanto and Johto), and a female Pichu she nicknames Buttercup because of the flower on her head, which will later evolve into a Pikachu. But hey, I can dream, right? Are there any other predictions?
Ash x Serena????
Ash x Serena? Kind of makes sense. If you watched the X and Y series on youtube with english captions, you will see that on Episode 2 Serena will go to the TV and her face changes when she sees Ash on the screen and says, "That boy..... it couldn't be?" Hint Hint And also when Ash jumps to save Pikachu, and Serena gasps.
Who the need Misty return?
Too bad Misty is not in Pokemon episode The Series XY (XY Pokemon). Serena can protect Ash for bad girl in Kanto will not annoy.
Goodbye Misty!!!.
XavienAntoniofan (talk) 13:09, November 24, 2013 (UTC)XavienAntoniofan