Taillow (Japanese: スバメ Subame) is a Normal/Flying-type Pokémon introduced in Generation III that has a gutsy spirit that allows it to bravely take on tough foes. It also flies in search of warm climates.
Appearance
Taillow
has the tail of a swallow. Its stomach is mainly white, while up near the neck it begins to turn a red/pink. At the top of the end, there is a small triangle where the red/pink color ends and where it begins to turn blue. The blue looks like hair on the head. Its talons are a creamish color. It also has a blue tail.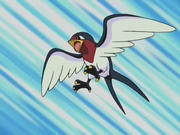 Evolution
Taillow evolves into Swellow once it reaches level 22.
Game info
Game locations
Side game locations
Pokédex entries
Side game data
Pokémon Ranger: Shadows of Almia
No.
Pokémon
Group
Field Move
Poké Assist
R-006
Taillow

Flying

Cut 1
Flying
Capture Points*
On Sight**
56
Flies away.
Browser Entry
It whips up gusts with its wings to attack.
* - This is the amount of points required to capture the Pokémon (excluding boss Pokémon).
** - This is the reaction of the Pokémon when players approach it.
Sprites
Sources