Tad's Poliwrath
Japanese Name
General
Trainer:
Tad
Debut:
Charizard Chills
Episode captured:
Prior to Charizard Chills
Details
Tad's Poliwrath is a Water/Fighting-type Pokémon owned by Tad.
Biography
Orange Islands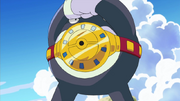 It defeated Ash's Charizard at the very first time making it injured.Charizard learned his bond towards its trainer Ash and decided to finally obey him.Later, Charizard and Ash both defeated Tad's Poliwrath.
Unova
Ash remembered Tad's Poliwrath battling Charizard when he retrieved him in Unova.
Known Moves