Sylveon
Talk

35
8,247pages on
this wiki
Sylveon

'(ニンフィア, Ninfia)'

[[Generation VI]]
Evolutionary Line
No evolution line

Gender
Genderless
Weight
Height
—
—
—
—
Pokédex Color
Egg Group
Pink
—
Body Style
Footprint
Cry
Sylveon (Japanese: ニンフィア Ninfia) is a Fairy-type Pokémon and also an evolution of Eevee. It can be bred by an Eevee and another Pokémon.
Appearance
Sylveon is a Pokémon with cream colored fur on most of its slender body and a reddish tail. There are two bow shaped and scarf-like objects around its body. It has four legs, each one a pink color - like the tail - and three toes on each. It also has two large blue eyes and long pink ears.
In the anime
Sylveon is set to appear in the short film
PK25
.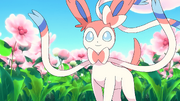 Learnset
Leveling

Generation VI

Level
Move
Power
Accuracy
PP
Type
Category
???
Moonblast
-
--%
???

Fairy

[[Move#

???

???

]]

Trivia

This is the eighth Pokémon revealed that evolves from Eevee.

It is the lightest Eeveelution so far.
Sylveon is the first pure 

Fairy

-type Pokémon introduced.