Sylveon (Japanese: ニンフィア Ninfia) is a Fairy-type Pokémon and also an evolution of Eevee. It can be bred by an Eevee and another Pokémon.
Biology
Physiology
Sylveon is a Pokémon with cream colored fur on most of its slender body and a reddish tail. There are two bow shaped and scarf-like objects around its body. It has four legs, each one a pink color - like the tail - and three toes on each. It also has two large blue eyes and long pink ears.
Appearances
Anime
Sylveon appears in the short film PK25.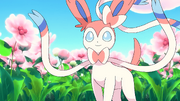 Learnset
Leveling Generation VI
Level
Move
Power
Acc.
PP
Type
Cat.
Contest Cat.
Appeal
Jam
???
Moonblast
-
--%
???
[[Fairy type|Fairy]]
[[Move#???
??? ]]

Trivia

This is the eighth Pokémon revealed that evolves from Eevee.
It is the lightest Eeveelution so far.
Sylveon is the first pure Fairy-type Pokémon introduced.

Gallery